General Contestant Information
It's time for all Chorus and Quartet contestants to complete and send in their Contest Entry Forms.
Area 2 contestants, please complete and submit the online Contest Entry Form--quartet form HAR-061 or chorus form HAR-063.
Mixed Harmony Ensembles, please follow the instructions here.
Contest Entry forms must be postmarked no later than February 20, 2023, in order to be a part of the initial draw for the Order of Appearance for either the Quartet or Chorus Contest. If you miss this date, a late fee will be assessed and you will sing first in the applicable contest. In order to compete, your late entry must be postmarked no later than March 22, 2023.
The contests will be held in the Grand Ballroom at the DoubleTree by Hilton Hotel, 5400 Computer Drive, Westborough, Massachusetts 01581.
There will be a raised platform for the quartets. The risers for the chorus contest will be on the ballroom floor. Sound equipment will be brought into the Grand Ballroom for the Quartet Contest.
Please note that there will be no curtain for the chorus contest. There will be a background drape for the quartet contest. Entry to the stage area will be from stage left.
The Stage Manager will not touch any motorized mobility devices brought to the backstage area. Each chapter is responsible for providing an escort on/off the stage for any person using a mobility device, if needed.
There will be eight 4' four-step risers for the chorus contest. The detailed stage dimensions are as follows: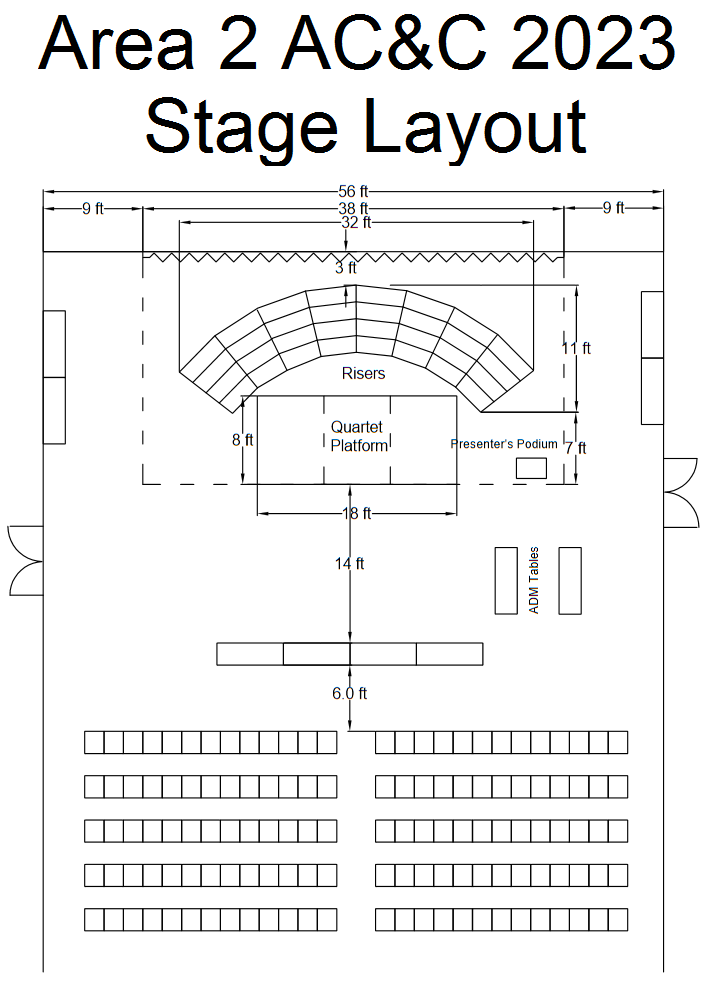 The Order of Appearance for both contests may be found here.
Contest patterns and schedules may be found here:
All Evaluations will be held in assigned rooms. Evaluation schedules will be distributed onsite by the Administrative Judges.